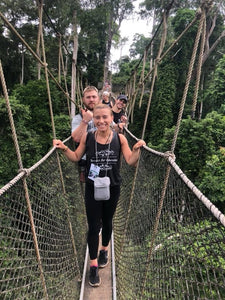 My Trip to Ghana - Jennifer Gries
My name is Jen, and I had the amazing opportunity to travel to Ghana, Africa last summer with Threads for Education. When I decided to go on the trip, I knew it would change my life, but I could never have imagined how much it would actually change me & my outlook on life. 
 Before our trip to Ghana, I had never been outside of the United States. I wasn't sure what to expect going into a completely different culture, but when I arrived in the village of Senase, I felt right at home. We were greeted with big hugs and delicious homemade food, and quickly joined the big family that everyone in the village is. Stepping out of my comfort zone and trusting people I had never met before turned into one of the greatest things I've ever done.


I had the privilege of working with the Grade 2 class and teachers throughout the week. We worked together on topics that the teachers were struggling with and we came up with a plan on how to get the kids to understand it. How willing the teachers were to take our ideas and how excited the children were to learn; it made it so much fun and so memorable. We brought songs, sports, and friendships to Semanhyiya American School and made so many memories doing all of this with the students. Outside of school, we experience life in Senase - Eating home cooked meals, spending time with people in the village, and even peeling chickens with our host family! I learned plenty of games that all the kids in the village taught me and I can't wait to go back and play them all again!!!

 
There were parts of this trip that made me have the biggest smile (like doing the morning dance with the kids every day!) and there were parts that made me emotional. I am grateful for every minute I spent there and I wish I could have spent more time. I made friendships in Ghana that I know will last a very long time, and I still keep in touch on Facebook with the teachers there almost every day! I am so proud to know these amazing people that have made such a difference in the world and I'm lucky I got to be involved in it. I know I was supposed to go there to change lives, but honestly, I know there was one life that was completely changed by this trip, and that was mine. A piece of me is always thinking about everyone at Semanhyiya American School and I can't wait for the next trip!  
 
 
---